DIY Sand & Water Play Table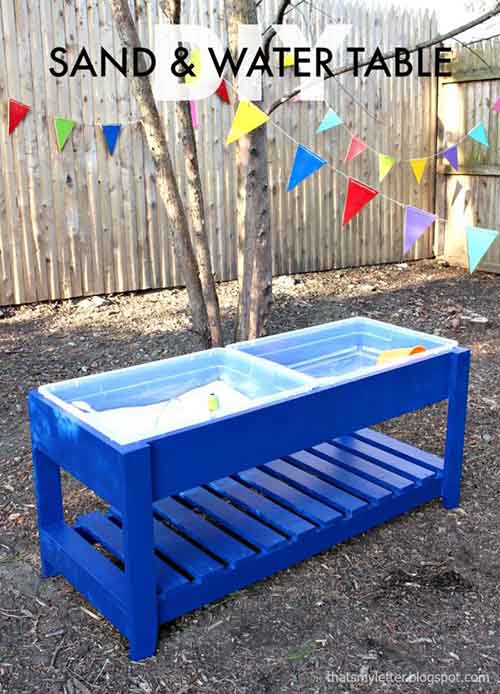 When I was a young kid, most people only had 1 television & it was in their living room & reserved strictly for Friday night movies or Sunday night TV specials. We love summer because we can be outside all day long, but on the really hot days it's hard to stay out for too long without some relief! This outdoor water and sand play table is the perfect solution! For days when you can't get to a pool, and this will keep your little one occupied for hours! 
Shopping List: 2 – plastic tubs (we used these, if using different tubs, make sure you adjust the plans), 5 – 1×3 @ 8 feet long, 1 – 1×6 @ 12 feet long (can cut into 4′ and 8′ pieces for transport – be careful to place cuts to get all the pieces out of the board). Recommend screws for attaching if used outdoors without rain cover (wood will swell when it gets wet, and this will push nails out over time. Use #8 exterior rated self tapping screws, 2″ and 1-1/4″ length. May need to predrill though the 1×3 boards as they do tend to split out.
The original post is from a fab blog called – Thats My Letter – make sure you check out Jaime Costiglio! Ana White has the plans for what you need… Check the link out below!