How To Make Bread
(without a bread machine)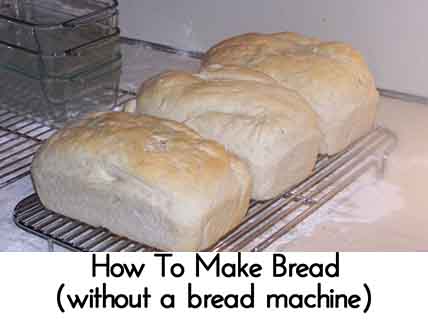 There is nothing quite like the smell of fresh bread baking in your home. For many people, this delicious smell brings about some nostalgia, making baking your own bread at home even more beneficial. You do not need a bread machine to bake your own bread either. Using your hands to make bread instead of implements and machines has a key advantage: Not all flours are the same, so if you are following a recipe exactly it won't turn out the same. By making bread from scratch you'll know exactly if you need more or less flour and water to make the bread turn out ok. Here is the recipe from drinkmorecoffee over at instructables.com:
Yeast – 2 Tbsp

Hot-ish* water – 2 cups

Bread flour – 5 cups total, 2 for the sponge and 3 for later. (NOT regular flour)

Sugar – 2 Tbsp.

Salt – 2 tsp.

Oil – 2 Tbsp.

3 loaf pans

Quick-read thermometer

Oven pre-heated to 375
*Hot-ish means between 95 and 115 degrees F. much colder and it won't activate, much warmer and it will kill the little guys.
There is a great article that offers excellent instructions – Get these details to make your own bread by clicking on the link below: