Fried Cabbage with Bacon, Onion, and Garlic Recipe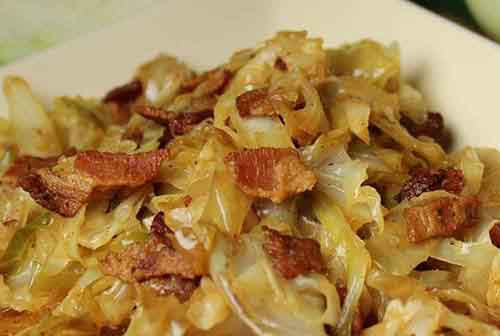 Everything is always better with bacon, right? Yes, this recipe calls for bacon and bacon grease which is part of what makes it a truly Southern dish in my opinion, while using bacon grease might not be the healthiest of choices it is the most flavorful. Even if you don't think you like cabbage you definitely have to give this recipe a try, with a good reason, because it's absolutely delicious, very easy to make and hearty enough to be a meal on it's own. let's face it…..how can you go wrong with bacon, garlic and onions?
"This is a family favorite that is put into every cookbook for my kids when they move out and get married. It is a beautiful dish with many colors and full of flavor. Warning, it is addictive." Yummy, yummy, yummy. I replaced the 3 tablespoons of salt with seasoned salt added to taste and I cooked the cabbage on medium until just tender. Definitely a keeper.
Fried Cabbage with Bacon, Onion, and Garlic Recipe