Cinnamon Skillet Bread with Warm Cheesecake Dip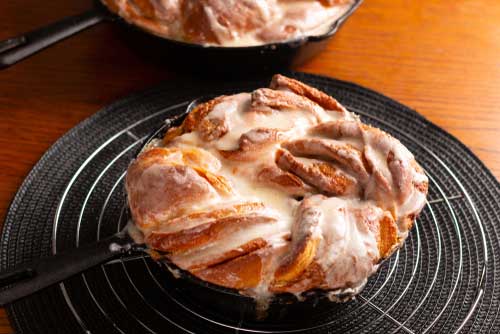 If you haven't bought a cast iron skillet yet, this recipe will make you go out and buy one now. I know I'm supposed to be healthy, but cheesecake! I wonder how it would turn out in the small cast iron skillets. Individual servings for less guilt?!
Cinnamon bread:
frozen white bread dough
granulated sugar
ground cinnamon
unsalted butter
Cheesecake dip:
cream cheese
granulated sugar
egg yolks
vanilla extract
caramel sauce
I've been waiting to make a large skillet-style cinnamon roll for quite some time, so I was thrilled when I found this recipe! Lovely for breakfast or brunch, with all those delicious flavors served up in a skillet. For the FULL recipe and directions, head to sprinklebakes.com via the link below – ENJOY!