50 Brilliant Time Saving Kitchen Hacks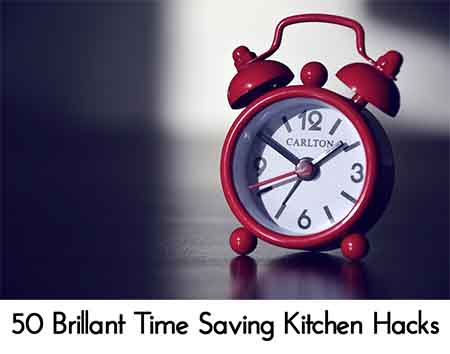 When I first started getting into cooking in my early 20's, it typically looked like a hurricane had swept through the kitchen. I knew I'd never be Martha Stewart but little by little, with practice, and thanks to things like this article from finedininglovers.com, I started learning some useful methods to manage the madness. You spend more time in your kitchen each day than you do in any other room of your home. Because of this, you want to make your time in your kitchen as productive and functional as possible.
There are many ways to cut down the time that you spend doing things like chores. Once you know how to shave off some time, you can spend more time relaxing and having fun. I'm all about efficiency! I've got systems for doing the laundry and making decisions, to name just a few. And I put tons of shortcuts to work in the kitchen. To help you out, I am sharing some of my favorite kitchen hacks to save you TONS of time.
50 Brilliant Time Saving Kitchen Hacks